Home > What's New > Shima Seiki Introduces New Type of WHOLEGARMENT Product Tag
Shima Seiki Introduces New Type of WHOLEGARMENT Product Tag
21/Oct/2009
In order to promote sales of WHOLEGARMENT knitwear at the retail level, Shima Seiki has been offering WHOLEGARMENT product tags to heighten consumer awareness toward WHOLEGARMENT knitwear and its benefits, as well as to distinguish WHOLEGARMENT from other knitted products. WHOLEGARMENT product tags are available exclusively to customers utilizing WHOLEGARMENT knitting machines, as well as to apparel planners, designers and merchandisers associated with creating and promoting WHOLEGARMENT products. Since their introduction in 2001, over 5 million WHOLEGARMENT product tags have been sold, effectively making it the company's best-selling product.
Now, in addition to the standard business-card size tags, Shima Seiki has introduced new WHOLEGARMENT Mini Tags which are available for times when a smaller tag is more desirable. The Mini Tags are in direct response to feedback obtained from customers who produce items such as gloves, socks, scarves, hats and other WHOLEGARMENT accessories knit on SWG041N, 061N and 091N compact machines, whose products are too small and out of balance with the larger standard-size tags.
The 4.5cm x 4.5cm square hangs diagonally for visual appeal, has rounded corners to prevent snagging, and a matte coating for durability. It features the familiar WHOLEGARMENT logo and sweater illustration created in a single-stroke, symbolizing an entire garment knitted in one piece. On the back is a simple description of WHOLEGARMENT knitwear and its benefits.
Large or small, WHOLEGARMENT Tags offer some excellent benefits to WHOLEGARMENT users as a means of communication with consumers at the retail point of purchase.
1. Establishes WHOLEGARMENT product identity
2. Educates the consumer about the benefits of WHOLEGARMENT products
3. Distinguishes WHOLEGARMENT products from conventional knitwear
4. Adds value and creates market demand for WHOLEGARMENT products
5. As a symbol of quality, creates consumer confidence in WHOLEGARMENT products
6. Protects from copies and inferior products claiming to be complete garments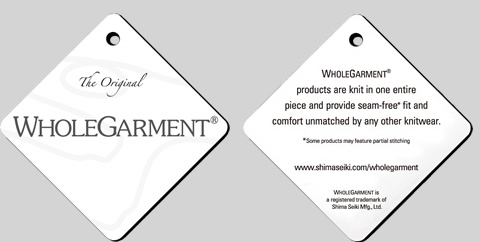 Go to WHOLEGARMENT Product Tag page.