16/Sep/2010 Press
Masahiro Shima is Awarded Honorary Medal by Italian Republic
Dr. Masahiro Shima, president and CEO of SHIMA SEIKI Mfg., Ltd., leading manufacturer of computerized flat knitting machines, was awarded an honorary medal for his contribution to the Italian Republic.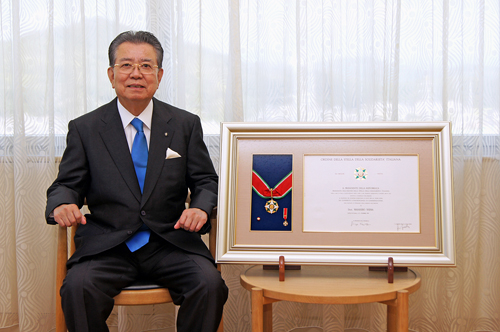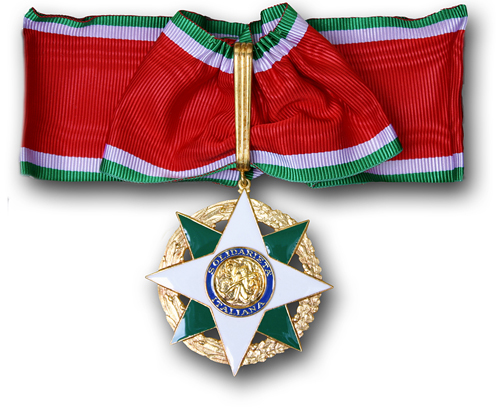 On 15th July 2010 Shima attended an award ceremony at the residence of the Italian ambassador to Japan in Tokyo. Shima along with eight other recipients were awarded medals for the Order of the Star of Italian Solidarity. The medals were presented by Ambassador Vincenzo Petrone on behalf of Italian President Giorgio Napolitano.
The Order of the Star of Italian Solidarity recognizes expatriates and foreigners who have made outstanding contribution to the Italian Republic. Shima was awarded the title of Commander (Commendatore dell'Ordine della Stella della Solidarieta Italiana), which is the second-highest honor of the Order.
Shima received the award for his contribution in promoting and advancing Italian fashion as well as expanding economic relations within the Italian fashion industry. SHIMA SEIKI has been selling its brand of computerized knitting machines in Italy since 1982, and it currently holds a major portion of market share. Its advancements have helped to keep the Italian knitting industry at the forefront of fashion. In particular the Italian knitting industry's early adoption of SHIMA SEIKI's exclusive WHOLEGARMENT knitting technology--wherein an entire garment can be produced in one-piece without the need for labor-intensive sewing or linking of parts--has helped the industry to remain stable against the onslaught of inexpensive imports from Asian markets with low wages. In 2006 SHIMA SEIKI established a subsidiary company in Milan, further strengthening ties through direct sales to its customers.
In addition to the sales of knitting machines, SHIMA SEIKI has taken an active role in cultivating and promoting Italian knit fashion designers by commissioning fashion shows and trend seminars in both Italy and Japan, while providing timely fashion information to its customers. Shima's personal fondness for things Italian has also inspired him to promote Italian fashion, food and culture in varying degrees for his other business ventures.