28/Feb/2019 Press
Notice of Major Update of "VR-knit.com" App
Leading computerized flat knitting technologist SHIMA SEIKI MFG., LTD. of Wakayama, Japan has released a major update to its smart device app "VR-knit.com." New features include an AR mode and ultra-realistic knit fabric viewer, enabling a richer virtual knit experience.

VR-knit.com
VR-knit.com was initially released in November 2017 as an app for showcasing SHIMA SEIKI's original knit collection as 3D images in virtual space. Knitwear can be browsed by trend theme and rotated 360°, and with the use of VR goggles, the collection can be enjoyed in 3D. Traditionally, fashion trend collections involved prototype samples designed and produced each season worn by models at fashion events. With VR-knit.com, collections can be viewed anytime, anywhere, without limitations in time, place or opportunity. New themes and items are added to VR-knit.com on a regular basis. By allowing push notifications on any smart device, it can receive the latest fashion trend information from SHIMA SEIKI. All knitwear featured in VR-knit.com is planned, designed, and simulated using SHIMA SEIKI's 3D design system . Such digitized knitwear is attracting attention as a tool for advancing IT in the fashion industry. Furthermore, simulation with APEX3 becomes the basis for data to be used for actual programming of dedicated industrial knitting machines (computerized flat knitting machines). Until now, it was common for apps to simply allow for viewing of fashion designs in virtual space. Now, by linking virtual designs to actual production, VR-knit.com presents a production model for IT-based 21st century manufacturing.
New functions
1. AR mode

AR (augmented reality) function allows a virtual model wearing SHIMA SEIKI original knitwear to be viewed within the user's actual surroundings, offering an even more effective "real world" presentation of virtual knitwear. The model can be viewed from all angles, and the intensity and direction of the light source can be adjusted as well. Screenshots can be taken of the virtual model in AR mode as well.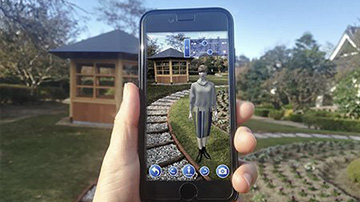 2. Ultra-realistic knit fabric viewer

SHIMA SEIKI original knitwear can be viewed as ultra-realistic virtual samples in full detail. This is made possible by the extremely high quality of knit simulation on SDS-ONE APEX3.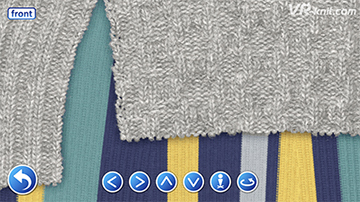 | | |
| --- | --- |
| App overview | Supported for iOS, Android device, Windows PC, and Macintosh. To download the app, visit the official website, or access the respective app store and search for "VR-knit." The VR-knit.com app is free of charge. |
| | | |
| --- | --- | --- |
| version | iOS | Android |
| requirements | iPhone 6S/iOS11 or higher | ver. 7 or higher |
| current version | ver. 1.2.5 | ver. 1.2.2 |
| update | February 2019 | January 2019 |
About SDS-ONE APEX3

SHIMA SEIKI's computer graphic 3D design system is the latest all-in-one design tool for designing knitwear and programming of SHIMA SEIKI industrial knitting machines. Especially of note is SDS-ONE APEX3's superior performance in ultra-realistic fabric simulation that can reproduce fabric texture to unprecedented levels, to the extent of confusing with genuine fabrics. Simulations can be used as virtual samples that replace actual knitwear in sampling, saving precious time, cost and material. Virtual knitwear can also be used in retail "presale activities" to gauge consumer response in order to forecast demand even before the item goes to market. In such a way SDS-ONE APEX3 becomes a platform for digitization and acceleration of manufacturing that easily keeps up with fast-changing trends.
Contact

(Mr.) Masaki Karasuno, Media Relations
SHIMA SEIKI MFG., LTD.
karasuno@shimaseiki.co.jp
TEL: +81-73-474-8580