WHOLEGARMENT Product Tags
We at SHIMA SEIKI invite you to take part in a special offer, available exclusively to our customers using WHOLEGARMENT knitting machines, as well as apparel planners, designers and merchandisers associated with creating and promoting WHOLEGARMENT products. WHOLEGARMENT Product Tags are now available from Shima Seiki, for distinguishing these revolutionary products at the consumer retail level.
WHOLEGARMENT knitwear offers some excellent incentives for the consumer, such as fit and comfort, light weight, mobility and environmental friendliness. By focusing consumer attention to these benefits at the retail level, WHOLEGARMENT Tags offer a highly effective means to establish consumer confidence and satisfaction toward your products.
By joining us in our global campaign to establish WHOLEGARMENT brand recognition, you will be identifying your products as having the same quality and added value associated with WHOLEGARMENT products throughout the world.
Incentives for using WHOLEGARMENT Tags
WHOLEGARMENT Tags offer some excellent benefits to WHOLEGARMENT users.
1

Establishes WHOLEGARMENT product identity

2

Educates the consumer about the benefits of your WHOLEGARMENT product

3

Distinguishes your product from conventional knitwear

4

Adds value and creates market demand for your products

5

As a symbol of quality, creates consumer confidence in your product

6

Protects from copies and inferior products claiming to be complete garments
Tag Design
The WHOLEGARMENT Tag design is a simple illustration of a sweater created in a single-stroke, symbolizing an entire garment knitted in one piece. Its simple design can be instantly recognizable as the WHOLEGARMENT trademark anywhere in the world.
On the back, a comparison is made between WHOLEGARMENT products and conventional cut-and-sew sweaters, complete with illustration. It also lists major consumer benefits which WHOLEGARMENT has to offer.
The WHOLEGARMENT Tag is available in standard business-card size for convenient carrying and easy distribution. Mini Tags are also available for when a smaller tag is more desirable, such as for WHOLEGARMENT accessory items.
Regular Tag (90mm x 55mm)

Mini Tag (45mm x 45mm)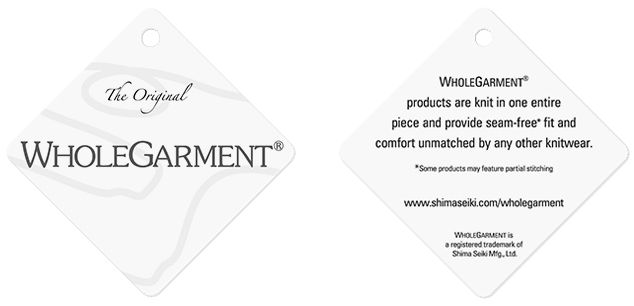 Solutions
Knit Collections